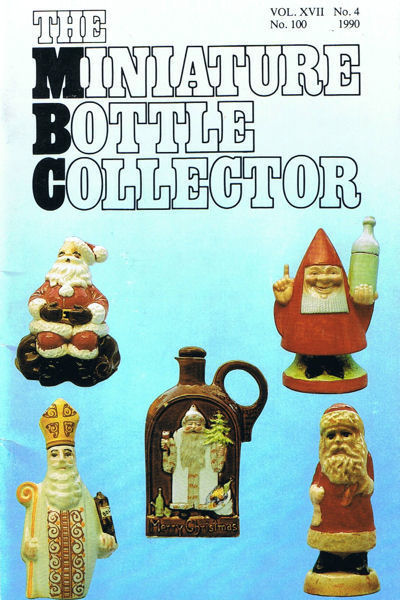 NZMBC Miniature Bottle Collector Magazine
Miniature Bottle Collector (MBC) Magazine was published from 1974 - 2005. These scans are reproduced by kind permission of the owner, David Spaid. Back copies are still availiable of most issues and these are maked in the text below. There is a 10% discount for 6 or more. To order back copies please make a note of the ones you want then . Include your postal address. He will get back to you with a cost inclusive of postage and how to pay. The paper copies are of a higher quality than these scans - I wouldn't be without them.

Apart from the articles, check out the adverts as there is masses of information in these also. The file is searchable as much as I can reasonably make it. If an article is about a particular brand, but does not say so in the title, I have included that information in brackets. However, it is impossible to index every bottle in general articles. At some future point I will provide an index of the adverts.

There were 184 issues in total and so far there are 160 on line. If you have copies of any of the MBC's not shown here we would love to borrow them so that we can scan them and share them with others.
E-Mail: Webmaster
ISSUE 1Vol. 1 No.1, January-February 1974 32 PagesBack Copies NOT Availiable

Cover - Three Sarandrea's Ceramics
Page 5 - Where We've Been and Where We're Going by David Spaid
Page 7 - Ski Country by Dennis Kowalski
Page 11 - Sarandrea's by David Spaid
Page 12 - Small Suds - A Little Deja Vu by Jeanne Fugina
Page 16 - Fascinating Fugurals - Snow White & the 7 Dwarfs by Tony Natelli
Page 19 - About Argentine Minis by Alfredo Spinelli
Page 21 - MBC by Mary Aiken
Page 24 - About Snuff Bottles by M. A. Spaid
Click Image to download a copy in PDF format (this will open in another window)


ISSUE 2Vol. 1 No.2, March-April 1974 32 PagesBack Copies NOT Availiable
Cover - Beers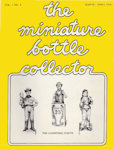 Page 3 - Let's Talk by David Spaid
Page 5 - Fascinating Fugurals - Luxardo by Tony Natelli
Page 9 - What is a Variety? by Alfredo Spinelli
Page 11 - MBC by Mary Aiken
Page 14 - Lionstone by David Spaid
Page 17 - Small Suds by Jeanne Fugina
Page 20 - Bottlemania by Al Haas
Page 22 - Chirp! It's Me Again by John Solsrud
Page 23 - Ski Country by Dennis Kowalski
Click Image to download a copy in PDF format (this will open in another window)

ISSUE 3

Not Yet Scanned
ISSUE 4

Vol. 1 No.4, July-August 1974

32 Pages

Back Copies NOT Availiable
Cover - Beers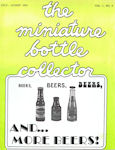 Page 7 - Let's Talk - Garnier by David Spaid
Page 8 - Small Suds by Jeanne Fugina
Page 10 - Koby's Kollectable Kolumn by Bob Koby
Page 11 - Fascinating Fugurals - Bols by Tony Natelli
Page 14 - New From Japan - Isiahs by David Spaid
Page 16 - Collecting in South America by Al Cembura
Page 18 - Hornbill Snuff Bottles - A.K.A. Golden Jade by David Spaid
Page 20 - About Argentine Minis by Alfredo Spinelli
Page 21 - Puzzling Beers by Bill Odell
Page 22 - MBC by Mary Aiken
Page 24 - Ski Country by Dennis Kowalski
Click Image to download a copy in PDF format (this will open in another window)

ISSUE 5

Vol. 1 No.5, September-October 1974

32 Pages

Back Copies NOT Availiable
Cover - Ringmaster & Tom Thumb from Ski Country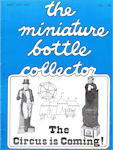 Page 4 - Let's Talk by David Spaid
Page 5 - MBC by Mary Aiken
Page 6 - Isaiahs and The Isaiah Guide by David Spaid
Page 10 - Fascinating Fugurals - Drioli by Tony Natelli
Page 13 - Lionstone Birdwatching by David Spaid
Page 16 - Small Suds by Jeanne Fugina
Page 18 - About Argentine Minis - Soda Siphons by Alfredo Spinelli
Page 19 - Koby's Kollectable Kolumn - Manhattan by Bob Koby
Page 20 - Ski Country Guide by David Spaid
Page 22 - Bimals by Darwin Williams
Page 24 - Porcelain Snuff Bottles by M. A. Spaid
Click Image to download a copy in PDF format (this will open in another window)

ISSUES 6-7

Not Yet Scanned
ISSUE 8

Vol. 2 No.2, March-April 1975

32 Pages

Back Copies NOT Availiable
Cover - Three Warner Bros. Characters from Alpa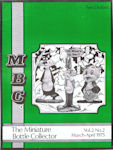 Page 4 - MBC Forum by Bob Koby
Page 5 - Warner Bros Carosello by David Spaid
Page 6 - MBC by Mary Aiken
Page 8 - A Potpourri of Potables by Harry Ford
Page 10 - Tiny Topicals - Architecture by Al Halpern
Page 13 - Small Suds by Jeanne Fugina
Page 16 - Old Store and Old Store Guide by David Spaid
Page 18 - Buyer Beware! (Vlahov fakes) by Bob Fugina and Carl Dobson
Page 19 - German Give-Aways by Lloyd McLeod
Page 20 - Koby's Kollectable Kolumn by Bob Koby
Page 22 - About Argentinean Minis - Champagnes & Ciders by Alfredo Spinelli
Page 22 - Jim Beam Personalized Bottles by Al Halpern
Click Image to download a copy in PDF format (this will open in another window)

ISSUE 9

Vol. 2 No.3, May-June 1975

32 Pages

Back Copies NOT Availiable
Cover - Three Wisconsin Wildlife Birds from Jon-Sol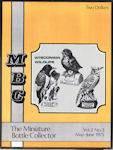 Page 4 - Let's Talk by David Spaid
Page 6 - MBC Forum by David Spaid
Page 7 - Warner Bros Carosello by David Spaid
Page 8 - Garnier Glass by Connie Avery
Page 10 - MBC and MBC Guide by Mary Aiken
Page 12 - Foam Off The Top by Bill Odell
Page 14 - Collector's Art by Ronald Haas
Page 16 - Koby's Kollectable Kolumn - Rye Whiskies by Bob Koby
Page 18 - Tiny Topicals - Seafarin' Minis by Al Halpern
Page 21 - Argentine Milks by Alfredo Spinelli
Page 22 - A Visit to Boozeville USA by Lloyd McLeod
Page 24 - Ski Country by Ruth Jones
Click Image to download a copy in PDF format (this will open in another window)

ISSUE 10

Vol. 2 No.4, July-August 1975

32 Pages

Back Copies NOT Availiable
Cover - Three Okolehao Hawaiian Ceramics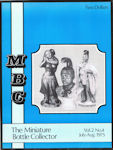 Page 6 - Let's Talk by David Spaid
Page 8 - Foam Off The Top by Bill Odell
Page 11 - A Visit to Boozeville USA by Lloyd McLeod
Page 12 - Juniper to Jenever (Dutch gins) by Harry Ford
Page 14 - Beneagles - The Thistle and The Rose Chess Set by David Spaid
Page 16 - Koby's Kollectable Kolumn - Rye Whiskies by Bob Koby
Page 18 - Ski Country by Ruth Jones
Page 20 - Bimals by Darwin Williams
Page 22 - Tiny Topicals - Sporting Minis by Al Halpern
Click Image to download a copy in PDF format (this will open in another window)

ISSUES 11-14

Not Yet Scanned
ISSUE 15

Vol. III No.3, May-June 1976

32 Pages

Back Copies NOT Availiable
Cover - McCormick Patriot Series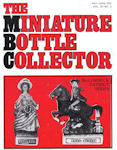 Page 7 - Let's Talk by David Spaid
Page 8 - Foam Off The Top by Bill Odell
Page 11 - Sassano & Pagani by David Spaid
Page 12 - A Little Scotch by Harry Ford
Page 14 - Travelling The World With Cinzano by Alfredo Spinelli
Page 15 - Microminis by Vic Visalli
Page 16 - McCormick Salutes the Bicentennial by David Spaid
Page 18 - Koby's Kollectable Kolumn - Rye Whiskies by Bob Koby
Page 20 - A Visit to Boozeville USA by Lloyd McLeod
Page 21 - Ski Country by Ruth Jones
Page 24 - Famous Firsts by David Spaid
Page 26 - Tiny Topicals (Bears) by Al Halpern
Page 28 - Chips Nips News by Ginny Fay
Click Image to download a copy in PDF format (this will open in another window)

ISSUE 16

Vol. III No.4, July-August 1976

32 Pages

Back Copies NOT Availiable
Cover - Bicentennial Beers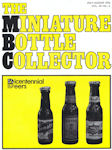 Page 5 - Let's Talk by David Spaid
Page 7 - Collector's Art - Dogs by David Spaid
Page 8 - Warner Bros Carosello by David Spaid
Page 10 - Travelling Minis by Pat McMullen
Page 14 - News From Canada by Josette Bourbonnais
Page 15 - Microminis by Vic Visalli
Page 17 - Ski Country by Ruth Jones
Page 18 - Miniature Memories by Larry Martinson & Tom Paul
Page 20 - A Visit to Boozeville USA by Lloyd McLeod
Page 22 - Koby's Kollectable Kolumn - Rye Whiskies by Bob Koby
Page 24 - Travelling The World With Cinzano by Alfredo Spinelli
Page 25 - Foam Off The Top by Bill Odell
Click Image to download a copy in PDF format (this will open in another window)

ISSUE 17

Not Yet Scanned
ISSUE 18

Vol. III No.6, November-December 1976

32 Pages

Back Copies NOT Availiable
Cover - Three Beneagles Chess Pieces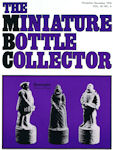 Page 6 - The Scotch List by John Sullivan
Page 10 - Anglo Swiss Vintager de Mexico by David Spaid
Page 12 - Sassano & Pagani by David Spaid
Page 13 - Microminis by Vic Visalli
Page 13 - Do You Know This Bottle? by Alfredo Spinelli
Page 14 - Personalized Jim Beam Miniatures by Al Halpern
Page 16 - Foam Off The Top by Bill Odell
Page 18 - Koby's Kollectable Kolumn (Gins) by Bob Koby
Page 20 - Ski Country by Ruth Jones
Page 21 - Miniature Memories by Larry Martinson & Tom Paul
Page 24 - Beneagles - The Thistle & Rose Chess Set by Lew Kamann
Click Image to download a copy in PDF format (this will open in another window)

ISSUE 19

Vol. IV No.1, January-February 1977

32 Pages

Back Copies NOT Availiable
Cover - The Custer Series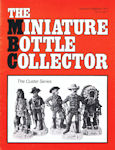 Page 5 - Let's Talk by David Spaid
Page 8 - Ski Country by Ruth Jones
Page 10 - Koby's Kollectable Kolumn by Bob Koby
Page 12 - A Visit to Boozeville by Lloyd McLeod
Page 13 - Vok Liqueurs by David Spaid
Page 14 - Miniature Memories by Larry Martinson & Tom Paul
Page 16 - David and Kay Williams by Kay Williams
Page 18 - MBC Puzzle by Jean Davis
Page 19 - Whistling Bottles by Tom Tugend
Page 20 - New Finds From The United Kingdom by Al Halpern
Page 22 - Foam Off The Top by Bill Odell
Page 24 - Microminis by Vic Visalli
Page 25 - A Wee Taste of Scotch by Lew Kamann
Page 26 - Club delle Mignonnettes by David Spaid
Click Image to download a copy in PDF format (this will open in another window)

ISSUE 20

Not Yet Scanned
ISSUE 21

Vol. IV No.3, May-June 1977

32 Pages

Back Copies NOT Availiable
Cover - Six Ski Country North American Indians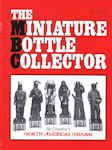 Page 6 - Cumbrae Supply Company by Lew Kamann
Page 8 - How Much is That Doggie... by David Spaid
Page 11 - Behind The Red Door by Clint Swift
Page 12 - Ski Country by Ruth Jones
Page 14 - My Favorite Beers by Scott Spaid
Page 16 - Microminis by Vic Visalli
Page 17 - The Mystery of the Garnier Dolphin by David Spaid
Page 18 - Whiskies... With An International Flavor by David Spaid
Page 20 - A Visit to Boozeville by Lloyd McLeod
Page 21 - The Club Report by David Spaid
Page 22 - Koby's Kollectable Kolumn (Gins) by Bob Koby
Page 24 - Personalized Jim Beam Miniatures by Al Halpern
Click Image to download a copy in PDF format (this will open in another window)

ISSUE 22

Vol. IV No.4, July-August 1977

32 Pages

Back Copies NOT Availiable
Cover - Six Ski Country North American Indians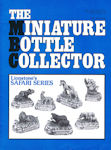 Page 5 - The Club Report by David Spaid
Page 6 - Microminis by Vic Visalli
Page 7 - What's New by David Spaid
Page 8 - A Visit to Boozeville by Lloyd McLeod
Page 9 - Luxardo's Tribute to Raffles by Connie Avery
Page 10 - Meet a Scotch Collector - John Sullivan by David Spaid
Page 12 - Ski Country by Ruth Jones
Page 14 - Monde Miniatures by S. Sawada
Page 16 - Personalized Jim Beam Miniatures by Al Halpern
Page 17 - Whiskies... With An International Flavor by David Spaid
Page 18 - Koby's Kollectable Kolumn by Bob Koby
Page 20 - Figural Rarities (Stratton, WLS & Delatour) by Harry Goetz
Page 22 - The History of Miniature Beers, part 1 by Bill Odell
Click Image to download a copy in PDF format (this will open in another window)

ISSUE 23

Vol. IV No.5, September-October 1977

32 Pages

Back Copies NOT Availiable
Cover - Miniature Masquerade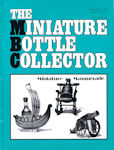 Page 4 - What's New by David Spaid
Page 6 - Microminis by Vic Visalli
Page 7 - The Club Report by David Spaid
Page 8 - Introducing, Peter Hermanos by David Spaid
Page 9 - Personalized Jim Beam Miniatures by Al Halpern
Page 10 - The Origins of Scotch by John Sullivan
Page 12 - How Much is That Doggie... by David Spaid
Page 14 - Meet The Collector - Tatsuo Wakino by David Spaid
Page 16 - Koby's Kollectable Kolumn by Bob Koby
Page 18 - A Visit to Boozeville by Lloyd McLeod
Page 19 - Whiskies... With An International Flavor by David Spaid
Page 20 - Ski Country by Ruth Jones
Page 22 - The History of Miniature Beers, part 2 by Bill Odell
Click Image to download a copy in PDF format (this will open in another window)

ISSUE 24

Vol. IV No.6, November-December 1977

32 Pages

Back Copies NOT Availiable
Cover - Ski Country White Falcon & Red Tailed Hawk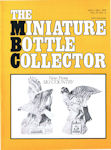 Page 5 - How Much is That Doggie... (Lionstone Dogs) by David Spaid
Page 6 - What's New? by David Spaid
Page 8 - The Scotch List by John Sullivan
Page 11 - Rynbende ~ Delft & Glass by David Spaid
Page 12 - Peter Hermanos by David Spaid
Page 13 - Bal Tabrin by David Spaid
Page 14 - Meet The Collector, Linus Earl by David Spaid
Page 16 - German Whiskies by Frank-Norbert Gerlach
Page 18 - Microminis by Vic Visalli
Page 19 - A Visit to Boozeville by Lloyd McLeod
Page 20 - Koby's Kollectable Kolumn by Bob Koby
Page 22 - Jim Beam Personalized Miniattures by Al Halpern
Click Image to download a copy in PDF format (this will open in another window)

ISSUE 25

Vol. V No.1, January-February 1978

32 Pages

Back Copies NOT Availiable
Cover - Two Grenadier Generals on Horseback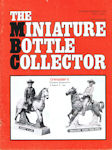 Page 6 - The Club Report by David Spaid
Page 7 - What's New by David Spaid
Page 8 - German Whiskies by Frank-Norbert Gerlach
Page 10 - The Truth About Proof by John Sullivan
Page 12 - Argentine Whiskies by Alfredo Spinelli
Page 13 - Microminis by Vic Visalli
Page 14 - The History of Miniature Beers by Bill Ordell
Page 17 - Bal Tabrin by David Spaid
Page 18 - Meet The Collector, Giordano Mantanari by David Spaid
Page 20 - Koby's Kollectable Kolumn (Gins) by Bob Koby
Page 21 - Ski Country by Ruth Jones
Page 22 - Jim Beam Personalized Miniatures by Al Halpern
Page 24 - A Visit to Boozeville by Lloyd McLeod
Click Image to download a copy in PDF format (this will open in another window)

ISSUE 26

Vol. V No.2, March-April 1978

32 Pages

Back Copies NOT Availiable
Cover - Eight McCormick Gunfighters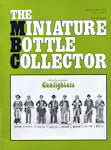 Page 6 - Miniature Beers by Bill Ordell
Page 8 - Collectors BEWARE (Insurance advice) by Dale Flesher
Page 9 - Potter's Mini Trio by David Spaid
Page 10 - Microminis by Vic Visalli
Page 11 - Argentine Whiskies by Alfredo Spinelli
Page 12 - Meet The Collector, Jim Triffon by David Spaid
Page 14 - Hoffman Wildlife Series by David Spaid
Page 16 - Potpourri From Italy by David Spaid
Page 18 - Ski Country by Ruth Jones
Page 20 - Koby's Kollectable Kolumn (Calamassi Chess Set) by Bob Koby
Page 21 - A Visit to Boozeville by Lloyd McLeod
Page 22 - Jim Beam Personalized Miniatures by Al Halpern
Click Image to download a copy in PDF format (this will open in another window)

ISSUE 27

Not Yet Scanned
ISSUE 28

Vol. V No.4, July-August 1978

32 Pages

Back Copies NOT Availiable
Cover - Eight McCormick Gunfighters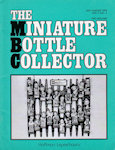 Page 6 - The Club Report by David Spaid
Page 7 - What's New by David Spaid
Page 8 - Ski Country by Ruth Jones
Page 10 - Collecting in Great Britain by John Lovett
Page 11 - Famous Firsts by David Spaid
Page 12 - Sassano & Pagani by David Spaid
Page 14 - Hoffman Horses by David Spaid
Page 16 - Gold Seal by Vic Visalli
Page 17 - Koby's Kollectable Kolumn by Bob Koby
Page 18 - Jim Beam Personalized Miniatures by Al Halpern
Page 20 - Boozeville Bowling by Lloyd McLeod
Page 21 - Meet the Collector: Bill Johnston by David Spaid
Page 22 - Malt Whisky by John Sullivan
Click Image to download a copy in PDF format (this will open in another window)

ISSUES 29

Not Yet Scanned
ISSUE 30

Vol. V No.6, November-December 1978

32 Pages

Back Copies NOT Availiable
Cover - Two Grenadier's, Pancho Villa & Fierro and Texas Ranger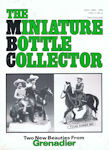 Page 7 - What's New? by David Spaid
Page 8 - Lionstone's Safari Set No.2 by David Spaid
Page 9 - Koby's Kollectable Kolumn by Bob Koby
Page 10 - Hoffman Raining Cats & Dogs by David Spaid
Page 12 - 3 New Minis from Potters by David Spaid
Page 13 - Ski Country by Ruth Jones
Page 14 - Mini Party - Maxi Success! by David Spaid
Page 16 - Meet the Collector: Harry D'Arcangelo by David Spaid
Page 17 - Microminis by Vic Visalli
Page 18 - In Search of the Elusive Welsh Whisky by Ada Felske
Page 20 - My Favorite Beers by Scott Spaid
Page 21 - The Big Five of Scotch by John Sullivan
Page 22 - A Visit to Boozeville by Lloyd McLeod
Page 23 - Personalized Jim Beam Miniatures by Al Halpern
Click Image to download a copy in PDF format (this will open in another window)

ISSUE 31

Vol. VI No.1, January-February 1979

32 Pages

Back Copies NOT Availiable
Cover - Ski Country's Chukar Partridge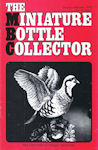 Page 7 - Dug Picking's Brothel Series by David Spaid
Page 8 - What's New by David Spaid
Page 10 - Miniature Beers and Go-Withs by Barbara Gaines
Page 12 - Dewar's "White Label" - The Scotch That Never Varies by John Sullivan
Page 13 - A Most Unique Auction by Vic Visalli
Page 14 - Ski Country by Ruth Jones
Page 19 - A Visit to Boozeville by Lloyd McLeod
Page 20 - Meet THe Collector: Mrs. Dorothy Miller by David Spaid
Page 22 - New Hoffman Bands by David Spaid
Page 24 - Koby's Kollectable Kolumn by Bob Koby
Page 28 - The Search For Minis Across The U.S. by David Spaid
Click Image to download a copy in PDF format (this will open in another window)

ISSUE 32

Vol. VI No.2, March-April 1979

36 Pages

Back Copies Availiable, US$3
(says Vol. VI No.1, January-February 1979)
Cover - Blue Ridge Prairie Dogs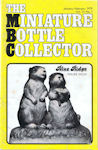 Page 7 - What's New? by David Spaid
Page 8 - Seagram's by Pat McMullen
Page 10 - Microminis by Vic Visalli
Page 11 - A Visit to Boozeville by Lloyd McLeod
Page 12 - Meet the Collector: Kijuroo Kondow by David Spaid
Page 14 - Koby's Kollectable Kolumn by Bob Koby
Page 16 - Las Vegas Bottle Show 1979 by David Spaid
Page 18 - Ski Country by Ruth Jones
Page 20 - Microminis by Vic Visalli
Page 18 - In Search of the Elusive Welsh Whisky by Ada Felske
Page 20 - Hoffman Decoys by David Spaid
Page 22 - Personalized Jim Beam Miniatures by Al Halpern
Page 23 - Small Talk by Jim Gardner
Page 28 - The Search for Minis Across the U.S. by David Spaid
Click Image to download a copy in PDF format (this will open in another window)

ISSUE 33

Vol. VI No.3, May-June 1979

36 Pages

Back Copies Availiable, US$3
Cover - Punt Transports, Fuzzy & Raquette

Page 7 - The Brothel Series - Chicken Ranch by David Spaid
Page 8 - What's New, Old, Odd or Unusual by James A. Triffon
Page 10 - McCormick News by David Spaid
Page 12 - Johnnie Walker by John Sullivan
Page 14 - Microminis by Vic Visalli
Page 16 - A Salute to Cannons in Miniature by James A. Triffon
Page 18 - Koby's Kollectable Kolumn by Bob Koby
Page 20 - Miniature Beers and Go-Withs by Barbara Gaines
Page 21 - A Visit to Boozeville by Lloyd McLeod
Page 22 - Ski Country by Ruth Jones
Page 24 - Hoffman - Russell Series #1 by David Spaid
Page 28 - The Search for Minis Across the U.S. by David Spaid
Click Image to download a copy in PDF format (this will open in another window)

ISSUE 34

Vol. VI No.4, July-August 1979

36 Pages

Back Copies Availiable, US$3
Cover - Three French Jugs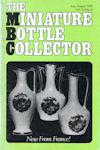 Page 7 - Treasures of the Past by Vic Visalli
Page 8 - What's New, Old, Odd or Unusual by James A. Triffon
Page 10 - California Whiskies by Harry Ford
Page 12 - Miniature Beers and Go-Withs by Barbara Gaines
Page 14 - Hoffman - Birds by David Spaid
Page 16 - New Horizons - Whiskies from Far Away Places by Frank Gerlach
Page 18 - Ski Country by Ruth Jones
Page 20 - A Salute to Cannons in Miniature by James A. Triffon
Page 22 - Koby's Kollectable Kolumn by Bob Koby
Page 24 - Birth of a Mini Club by David Spaid
Click Image to download a copy in PDF format (this will open in another window)

ISSUE 35

Vol. VI No.5, September-October 1979

36 Pages

Back Copies Availiable, US$3
Cover - Hennessy Junk & Bottle

Page 6 - Miniature Beers and Go-Withs by Barbara Gaines
Page 8 - Meet the Collector: D. K. Beer by Joan Goldberger
Page 11 - Monkey Business by David Spaid
Page 12 -A Visit to Boozeville by Lloyd McLeod
Page 13 - Some Rare Scotches by David Spaid
Page 14 - Koby's Kollectable Kolumn by Bob Koby
Page 16 - The Ragtime Circus by David Spaid
Page 19 - Ski Country by Ruth Jones
Page 21 - Treasures of the Past by Vic Visalli
Page 22 - The Cream of the Crop by David Spaid
Page 23 - Lionstone Cars in Miniature by David Spaid
Page 24 - From Merry Ole England by Mike Weingart
Click Image to download a copy in PDF format (this will open in another window)

ISSUE 36

Vol. VI No.6, November-December 1979

36 Pages

Back Copies Availiable, US$3
Cover - Grenadier Snowman & Santa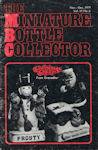 Page 6 - Cyrus Noble by David Spaid
Page 8 - The Scotch List by John Sullivan
Page 13 -A Visit to Boozeville by Lloyd McLeod
Page 14 - Miniature Beers and Go-Withs by Barbara Gaines
Page 16 - Del-Val Mini Fair by Don Prosise
Page 18 - Ski Country by Ruth Jones
Page 21 - Treasures of the Past by Vic Visalli
Page 22 - Koby's Kollectable Kolumn by Bob Koby
Page 24 - Kord & Jelinek by Connie & Les Avery
Page 28 - The Search for Minis Across the U.S. by David Spaid
Click Image to download a copy in PDF format (this will open in another window)

ISSUE 37

Vol. VII No.1, January-February 1980

36 Pages

Back Copies Availiable, US$3
Cover - Three Eishongen Japanese Ceramics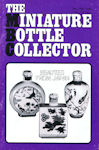 Page 5 - A Visit to Boozeville by Lloyd McLeod
Page 6 - Ski Country by Ruth Jones
Page 10 -Treasures of the Past by Vic Visalli
Page 11 - David & Venus by David Spaid
Page 12 - Beauties from Japan by David Spaid
Page 14 - Koby's Kollectable Kolumn by Bob Koby
Page 16 - Meet the Collector: Frank Gerlach by David Spaid
Page 19 - Representing by Lew Kamann
Page 20 - The Screech Story by David Spaid
Page 21 - McCormick Pony Express by David Spaid
Page 22 - Showing off your Collection by Wilson Harrell
Page 24 - Vodka in Miniature by James A. Triffon
Page 28 - The Search for Minis Across the U.S. by David Spaid
Click Image to download a copy in PDF format (this will open in another window)

ISSUE 38

Vol. VII No.2, March-April 1980

36 Pages

Back Copies Availiable, US$3
Cover - Ski Country Easter Seals Eagle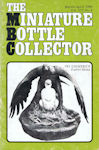 Page 5 - Treasures of the Past by Vic Visalli
Page 6 - Gin! by Alkei Manuel
Page 9 -A Visit to Boozeville by Lloyd McLeod
Page 10 - What's New, Old, Odd or Unusual by James A. Triffon
Page 12 - Ski Country by Ruth Jones
Page 14 - Miniature Beers and Go-Withs by Barbara Gaines
Page 16 - Koby's Kollectable Kolumn by Bob Koby
Page 18 - Meet the Collector: Don Prosisie by David Spaid
Page 21 - A Salute to Clubs Around the World - Kobe by David Spaid
Page 22 - A Salute to Cannons in Miniature by James A. Triffon
Page 24 - Fran's Ranch by Dug Pickings
Page 29 - The Search for Minis Across the U.S. by David Spaid
Click Image to download a copy in PDF format (this will open in another window)

ISSUE 39

Vol. VII No.3, May-June 1980

36 Pages

Back Copies Availiable, US$3
Cover - Three Roses from McCormick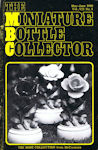 Page 6 - What's New, Old, Odd or Unusual by James A. Triffon
Page 8 - Midwest Mini Bottle Fair by David Spaid
Page 10 - Koby's Kollectable Kolumn by Bob Koby
Page 12 - Treasures of the Past by Vic Visalli
Page 113 - A Visit to Boozeville by Lloyd McLeod
Page 14 - The Scotch List by John Sullivan
Page 16 - New From Italy - Niccolo by David Spaid
Page 18 - Miniature Beers and Go-Withs by Barbara Gaines
Page 20 - Beauties from the Orient by Jim Triffon
Page 22 - Ski Country by Ruth Jones
Page 29 - The Search for Minis Across the U.S. by David Spaid
Click Image to download a copy in PDF format (this will open in another window)

ISSUE 40

Vol. VII No.4, July-August 1980

36 Pages

Back Copies Availiable, US$3
Cover - Hennessy Samurai & Bottle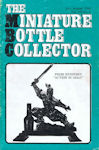 Page 6 - What's New, Old, Odd or Unusual by James A. Triffon
Page 8 - Foreign Collecting by David Andrews
Page 9 - Re-print of part of 1940's Southern Sales Catalogue
Page 13 - Ski Country by Ruth Jones
Page 15 - A Visit to Boozeville by Lloyd McLeod
Page 16 - Meet the Collector: Chuck Johnson by John Bogert
Page 18 - Beauties from the Orient by Jim Triffon
Page 20 - Miniature Beers and Go-Withs by Barbara Gaines
Page 22 - Koby's Kollectable Kolumn by Bob Koby
Page 24 - New From Italy - Niccolo by David Spaid
Page 29 - The Search for Minis Across the U.S. by David Spaid
Click Image to download a copy in PDF format (this will open in another window)

ISSUE 41

Vol. VII No.5, September-October 1980

36 Pages

Back Copies Availiable, US$3
Cover - Woodland Trio from Ski Country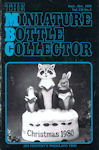 Page 6 - McCormick News by David Spaid
Page 8 - Ski Country by Ruth Jones
Page 10 - Miniature Bottles from Britain by Ada Felske
Page 12 - What's New, Old, Odd or Unusual by James A. Triffon
Page 14 - Re-print of part of 1940's Southern Sales Catalogue
Page 16 - Beauties from the Orient by Jim Triffon
Page 18 - Treasures of the Past by Vic Visalli
Page 19 - A Visit to Boozeville by Lloyd McLeod
Page 20 - Famous Firsts - Stamps by David Spaid
Page 21 - Otard by David Spaid
Page 22 - Koby's Kollectable Kolumn by Bob Koby
Page 24 - Lionstone Guide by Jim Kruse
Page 28 - The Search for Minis Across the U.S. by David Spaid
Click Image to download a copy in PDF format (this will open in another window)

ISSUE 42

Vol. VII No.6, November-December 1980

36 Pages

Back Copies Availiable, US$3
Cover - Hoffman Organist & Carolers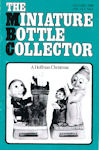 Page 7 - Brothel Series: La Belle by David Spaid
Page 8 - What's New, Old, Odd or Unusual by James A. Triffon
Page 10 - Northesat Mini Bottle Show and Sale by Steven Jospey
Page 12 - Ski Country by Ruth Jones
Page 14 - Miniature Beers and Go-Withs by Barbara Gaines
Page 16 - Collectors: Randy Selnick & Alkei Manuel by Gwen Young
Page 19 - Treasures of the Past by Vic Visalli
Page 20 - Re-print of part of 1940's Southern Sales Catalogue
Page 22 - Beauties from the Orient by Jim Triffon
Page 24 - How to Catalogue? by David Spaid
Page 25 - A Visit to Boozeville by Lloyd McLeod
Page 30 - The Search for Minis Across the U.S. by David Spaid
Click Image to download a copy in PDF format (this will open in another window)

ISSUE 43

Vol. VIII No.1, January-February 1981

36 Pages

Back Copies Availiable, US$3
ISSUE 44

Vol. VIII No.2, March-April 1981

36 Pages

Back Copies Availiable, US$3
ISSUE 45

Vol. VIII No.3, May-June 1981

36 Pages

Back Copies Availiable, US$3
ISSUE 46

Vol. VIII No.4, July-August 1981

36 Pages

Back Copies Availiable, US$3
ISSUE 47

Vol. VIII No.5 (says No.4), September-October 1981

36 Pages

Back Copies Av., US$3
ISSUE 48

Vol. VIII No.6, November-December 1981

36 Pages

Back Copies Availiable, US$3